Baner
Spil over 100 kendte baner fra USA, Europa & andre lande.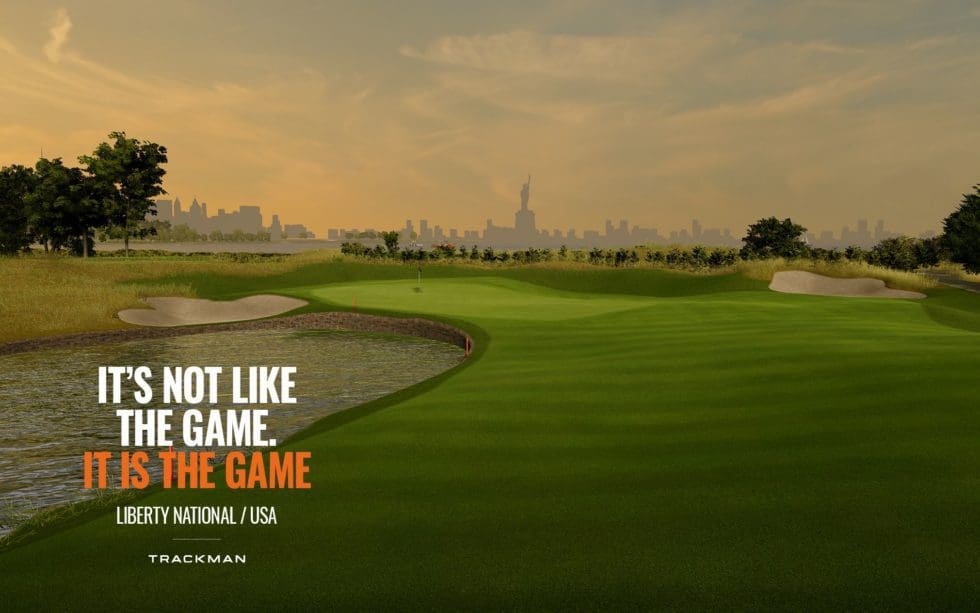 Et medlemskab til vores indoor golf center giver dig adgang til de bedste baner i verden. Vi anvender Trackmans Virtual Golf 2 software. En unik spil oplevelse, der kommer så tæt på virkeligheden som overhovedet muligt. Indoor golf er en fantastisk måde at opleve de store historiske baner fra USA eller Europa, eller eksotiske perler fra Japan eller Den Dominikanske Republik. Med over 100 baner løber du aldrig tør for nye udfordringer. Så pak køllerne, slip nysgerrigheden løs og spil hele verden fra din Trackman Simulator i Ballerup.
Nedenfor kan du se hvilke baner du kan spille.
Arthur Hills Course at Boyne Highlands
Bay Harbor – Links/Quarry
Bay Harbor – Preserve/Links
Bear Dance, The Golf Club
Bellerive CC
Bethesda CC
Black Desert Resort
Chimera Golf Club
Conway Farms GC
Country Club of Jackson
Falmouth CC
Fieldstone Golf Club
Franklin Hills CC
Glen Oaks Club – Tournament Course
Hillcrest C.C.
Hillcrest Short Course 'The Five'
Hillwood CC
Hualalai Resort
Hudson National
Innisbrook Copperhead
Interlachen CC
Kettle Brook GC
Kissing Tree
Lago Mar Country Club
Liberty National GC
Miacomet Golf Course
Montecito Club
Muirfield Village
Oswego Lake CC
Pebble Beach Golf Links
PGA National
Pine Brook C.C.
Port Huron G.C.
Portland Golf Club
Primland – Highland Course
Quail Hollow Club
QUAKER RIDGE GOLF CLUB
Ridgewood CC – Championship Course
Sea Island Plantation
Sea Island Seaside
Sebonack
Senoja Valley
Shangri-La GC (Champions & Heritage)
Shangri-La GC (Heritage & Legends)
Shangri-La GC (Legends & Champions)
Shelter Harbor
Silverleaf Club
Spyglass Hill
Sutton Bay
Sutton Bay Short Course
Sweetens Cove GC
The Heather at Boyne Highlands
The Links at Spanish Bay
The Reserve at Moonlight Basin
Timberline Golf Club
Trinity Forest Golf Club
Troubadour Golf and Field Club
Wachusett CC
Wayzata C.C.
Wilshire CC
Kempferhof Golf Course
Le Golf National
Paris International G.C.
Great Northern
Great Northern Academy
Royal Birkdale
Rungsted Golf Course
Lidingö Golf Club
GKG Golf Club
Reykjavik Korpa Sjorinn/Ain
Royal Portrush – Dunluce Links
Royal Troon
St Andrews Links Castle Course
St Andrews Links Jubilee Course
St Andrews Links New Course
St Andrews Links Old Course
Adlington Golf Centre
Hillside Golf Club
The Grove
Wentworth West Course
Park Golf Club
GC Budersand
GC München Eichenried
Golf Club Herzogenaurach
HLGC Hittfeld
Hofgut Scheibenhardt Golf Club
Mainzer Golf Club
New Golf Club – Neu-Ulm
Royal Homburger
Wörthsee
Donalda Club
Glen Abbey GC
Royal Ottawa GC
DEN DOMINIKANSKE REPUBLIK
Casa De Campo 'Teeth of the Dog'
Dye Fore Golf Course (Chavon & Lagos)
Dye Fore Golf Course (Lagos & Marina)
Dye Fore Golf Course (Marina & Chavon)
Eniwa CC (Akan and Mashu)
Eniwa CC (Mashu and Shikotsu)
Eniwa CC (Shikotsu and Akan)
Noboribetsu Country Club
Taiheiyo Club Gotemba Course
Abel's Crossing
Crystal Pines 
DaleBrook Forest
Devil's Island 
Hidden Canyon
Leon De Montana
Lostwood Glen
Sand River
Shadowlands
The Aces Club
The Lost Nine